bFunc - Project Journal - May 3 2020
Here's this week's development updates for bFunc, the open source function generator I'm developing to sell. Each day's entry represents an hour's work - the hour before I start work on my real job every weekday morning.
If you'd like to buy a board to try, you can purchase one over on Gumroad!
The design doc for this project is available if you're into design documents/philosophy.
All of my hardware and software source files are on GitHub. Check 'em out!
May 3, 2020
May 1, 2020
Looking at some PGA chips

AD603 (expensive!!)
PGA113 (cheap!!)
April 30, 2020
Could we make do with any cheaper opamps in the system?

A little analysis suggests that Yes, indeed we could.
There are cheaper opamps for the diff to single ended stage - they just run at lower voltages.
Even adding two cheap LDOs just to step +/-12V down to +/-5V would be a huge improvement
TI's LMH6642 would likely be a decent candidate https://www.ti.com/product/LMH6642
Similar performance over same frequency range
Less than half the price of the AD8065 (but also half the voltage range)

Also, since I haven't slept much and I'm a little braindead - let's test the oscillator!I

Soldered up one of the Horowitz El Cheapo special probes to the oscillator output.
I didn't include testpoints to solder a probe on to, so I scraped back some soldermask and soldered to the trace between oscillator and DDS chip.
Lots of time spent testing whether I was connected to the right trace with a scope.
Long story short - during this test setup process, I found a bug! I didn't tie the oscillator ground to the board ground. How dumb. Both these oversights will definitely be fixed in the next rev.

Learned some cool stuff about oscillators in the meantime.

For one thing: here's why you want to give your test equipment a few minutes to warm up. The frequency trend is a straight upward slope for about 5 minutes after USB power is applied.
It doesn't really settle into a predictable normal distribution for a few more minutes after that.
However, after about 10-15 minutes of being on, the oscillator stabilizes, and the frequency binning gets more uniform.
April 28, 2020
Alright! Next design starts… NOW.
I'm feeling pretty good about the firmware of my current design.
I'm not so comfortable with where the analog output stage is at.

No buffering.
No proper termination.
No antialiasing.

Three main areas I want to focus on:

Output Driver + DC Offset Control
Differential to single end converter
Antialiasing filter

Output Driver + DC Offset

This is a pretty straightforward inverting buffer based on AD8065 opamp

Unity gain stable
Wide bandwidth - GBP at about 150MHz
Rail-to-rail drive - can push/pull about 30mA
Not cheap - $3.71 in single quantities, $1.80 at 3k quantitiesI
Originally chose very high resistance values - 20k and higher
Simulations showed that this would limit bandwidth pretty substantially. A quick check of the AD8065 datasheet confirms
Dropping resistor values to 1k made a huge difference
Moved 3dB freq out from ~1MHz to ~35MHz
Added a little feedback cap to cut down on some peaking observed around 30MHz (Input is grounded in picture below because I was simulating a prior stage)
Output is, as it should have been from the start - 50 ohm series terminated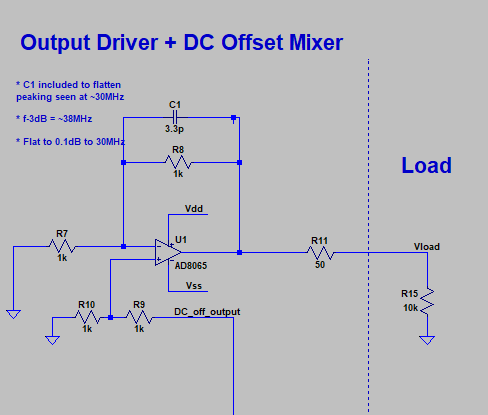 DC Offset + Output

Frequency response is flat +/-0.25dB out to 25MHz
Cursor 1 shows the point at which it starts to deviate from 0.25dB flatness area (26MHz)Cursor 2 shows the -3dB frequency (38MHz)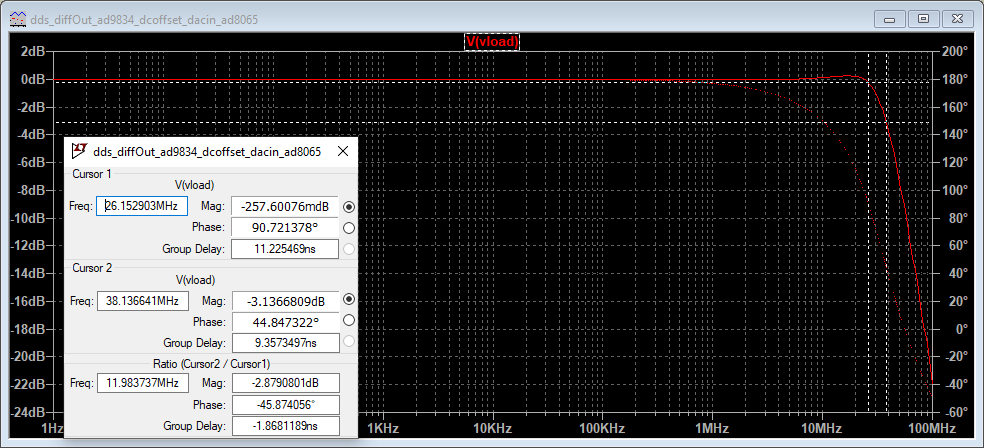 DC Offset Control

Inspired by a few TI app notes on unipolar-to-bipolar conversion circuits

http://www.ti.com/lit/an/sbaa343/sbaa343.pdf?ts=1588073331377
http://www.ti.com/lit/ug/slau525/slau525.pdf
http://www.ti.com/lit/ug/tidu974/tidu974.pdf

This circuit followed the design steps in that first TI app note, SBAA343
Plug in your DAC output range, and reference voltage, and your resistor values are just plug-and-chug.
AD8065 is probably not the right choice of opamp here - it's wildly overspecified.
This stage is gonna be driven by a DAC output at pretty low frequency - 500kHz bandwidth or less.
Can likely get away with a cheaper opamp - I just haven't done the work to find it yet.
Cap placeholder is there for the same reason as in the output buffer - it helps cut down on a bit of the ringing/transient overshoot in fast DC step transitions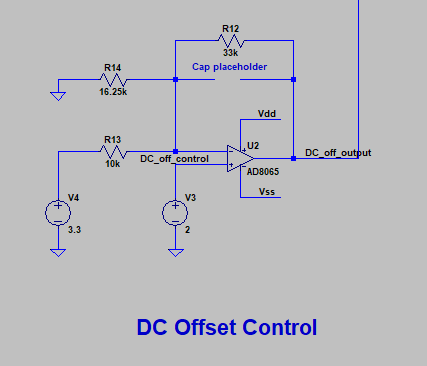 Antialiasing Filter

I'd really love to have a way to capture a scope waveform of my existing system with the AD9837, and then feed that waveform into LTSpice as a simulation input.
My cheapo Rigol scope doesn't have the capability to do this - or if it does, I don't know how to access it.
ADI doesn't have the answer to that question, but what they do have is pretty cool - the ADIsim DDS webpage.
Allows you to select your DDS chip, your output signals, and whether or not you want an external antialiasing filter. VERY cool, and worth playing around with.
Below shows the output of a DDS chip running at 23MHz output, after being filtered with a 7th order inverse Chebyshev lowpass filter.